The 12th Annual Mass of Remembrance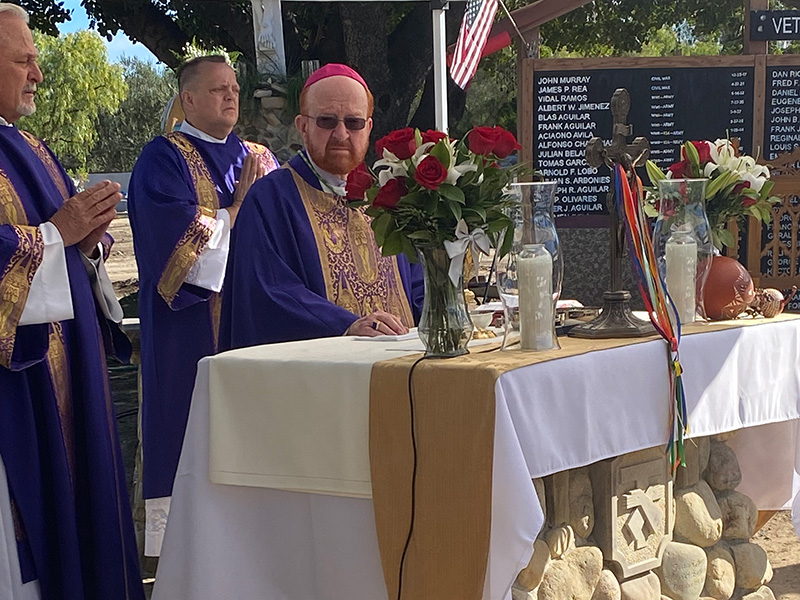 ---
The 12th Annual Mass of Remembrance was a huge success!
---
Thank you to all those who volunteered, donated, and participated to make this such a memorable day. I was pleased to see the over 230 people that were in attendance this year to honor those who have gone before us, our treasured ancestors, families, and friends. We also enjoyed visiting the over 200 families, loved ones, and friends who gathered with us for our annual reception at The Blas Aguilar Adobe.
I want to extend the utmost appreciation to His Excellency, Bishop Vann, of The Roman Catholic Diocese of Orange, who graced us with his presence for the second year in a row! Bishop Vann is the first Bishop to ever celebrate Mass with us at The Old Mission Historic Cemetery. We hope that he comes to celebrate Mass with us every year and we equally hope to enjoy his presence at our annual reception after Mass. We also want to honor and recognize Father Eamon O'Gorman who joins us every year as the Con-Celebrant of this very special Mass, as well as Deacon Gary Griffin and his brother Deacon who joined us for the first time this year. We hope to have you all back again next year!
Thank you to all those that came out prior to this special day, and took care of the grave sites of your loved ones, friends, and family. Those little touches of respect and love made this day such a beautiful one. I know that all the generations of loved ones buried on this sacred site gathered with us that day and celebrated with us the gift of their lives.
To all those who have donated to keep up The Old Mission Historic Cemetery, THANK YOU! You all have donated to a very important cause, which is the upkeep of this special site and the fence that is surrounding it.
There is still time! Donate today and be entered into a drawing for a dinner for 4 at Ricardo's Place in San Juan Capistrano. Our drawing closes on December 12th at midnight and we will then pick a name at random from our donation list. This is our THANK YOU to YOU for helping us preserve our historic cemetery.
---
Have
Photos
to Share?
---
Do you have photos to share? We would love to add them to our website! If you have photos that you would like us to share of your experience, please send them over. We would love to publish them on our website for all to enjoy! 
The Capistrano Historical Alliance Committee